It's been a while since I wanted to write an article about sustainability and equity crowdfunding. I believe, and I'm not alone, that business should be a force for good. And if you're a regular reader of this blog, you'll be more than I think crowdfunding is a great tool to fund the right businesses.
With this blog post, I'll explore the reasons why I believe sustainability equity crowdfunding are a really good match and some of the challenges that this kind of companies might face while trying to raise an equity round from the crowd. I also wanted to analyse a couple of the companies that are working in the sustainability sector, and more broadly, that are mission-driven, and have done a good job raising money through crowdfunding. And finally, for reference I'll list a few other companies in the sector. Let's dive into it!
Why equity crowdfunding?
With the recent rise of awareness of the huge challenge we've got ahead of us with climate change and the eye-opening pandemic that we are experiencing in 2020, more and more voices are shouting that we shouldn't go back to the 'old normal'.
Investors are very aware of this and will invest in sustainable companies, not only because it makes financial sense, but also because they want to be part of the solution, rather than the problem.
I have written in the past about the wider benefits of equity crowdfunding. For this post, we'll look specifically at the benefits linking sustainability and equity crowdfunding.
More transparency: A mission-driven company should have transparency at its front. An equity crowdfunding round presents the opportunity to show your business plan inside out, your mission and your vision. You'll be opening yourself challenges, but isn't that a great way to improve all aspects of your company?
More advocacy from your investors: they'll feel good being your investor and will want to shout about it to their friends, family and business partners!
Less dependency from a big investor: with hundreds of smaller investors (rather than a big one) you'll be able to maintain independence and keep the focus on the mission, not being derailed by an investor that might have a different agenda than yours.
Some challenges
I have discussed the basics about when not to launch a crowdfunding campaign in the past. Have a look and if you still have questions, send them over!
The main challenge for B2B companies in the sustainability area is that they can be complex to understand. The key here is to position their offering in a manner that was understandable by a wide audience, not just people with technical knowledge of the cleantech industry.
Two companies with sustainability at its core that have done a great job
Allplants
Allplants is a plant-based frozen meal subscription service. They raised over £3.5m in a convertible round in February 2020, offering a 20% discount on future rounds (shoot me with any questions you might have about convertible rounds!).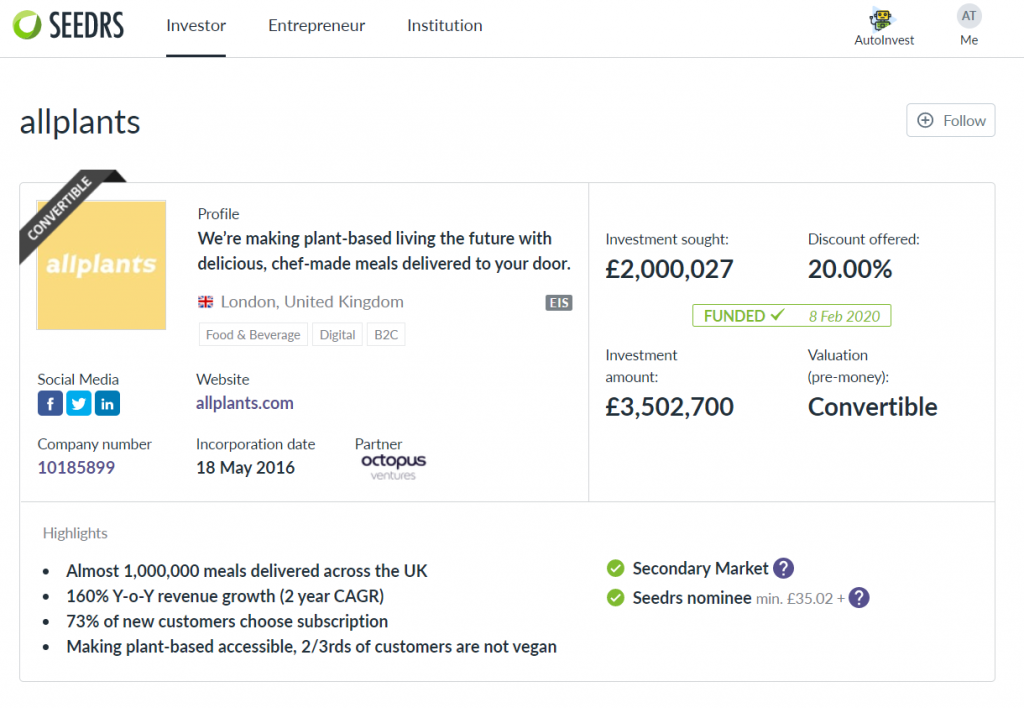 A few keys to their really well executed campaign:
Impeccable timing, launching straight after Veganuary, a campaign to try going vegan for the month of January.
They did a great job at not alienating the non-vegan investors by sending a very positive message
They had a big customer base (including yours truly) and they engaged with them regarding the campaign both online and offline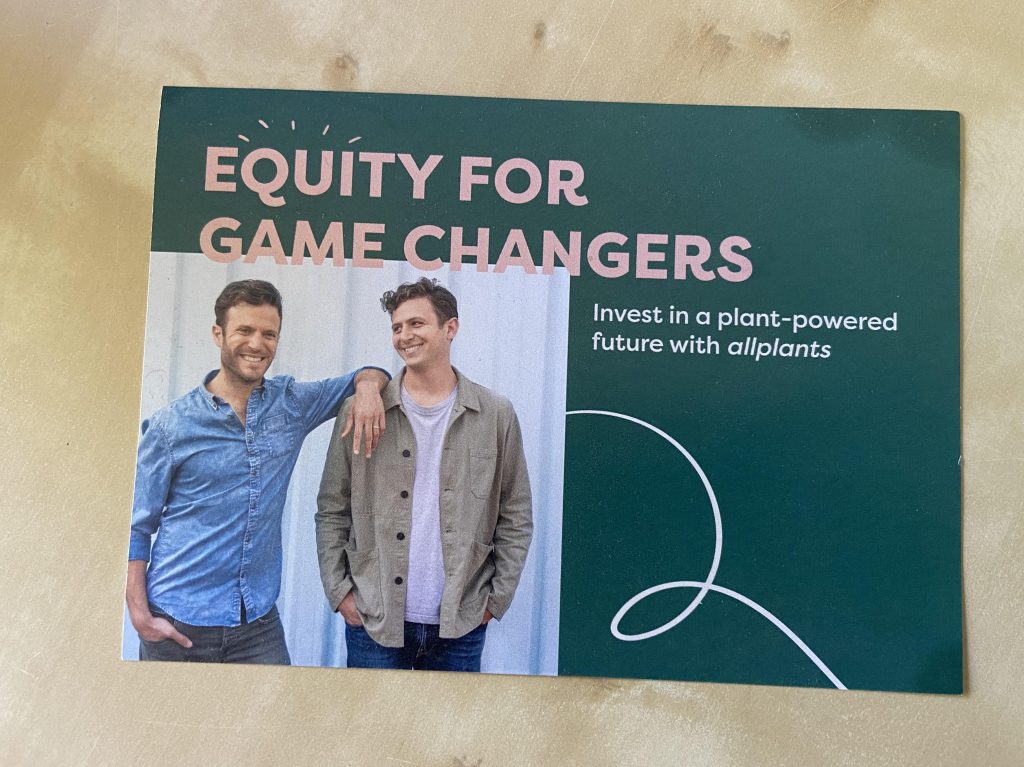 Recycling Technologies
Recycling Technologies are a B2B company that has the aim to turn waste plastic back into the oil it originally came from, for it to become plastic again.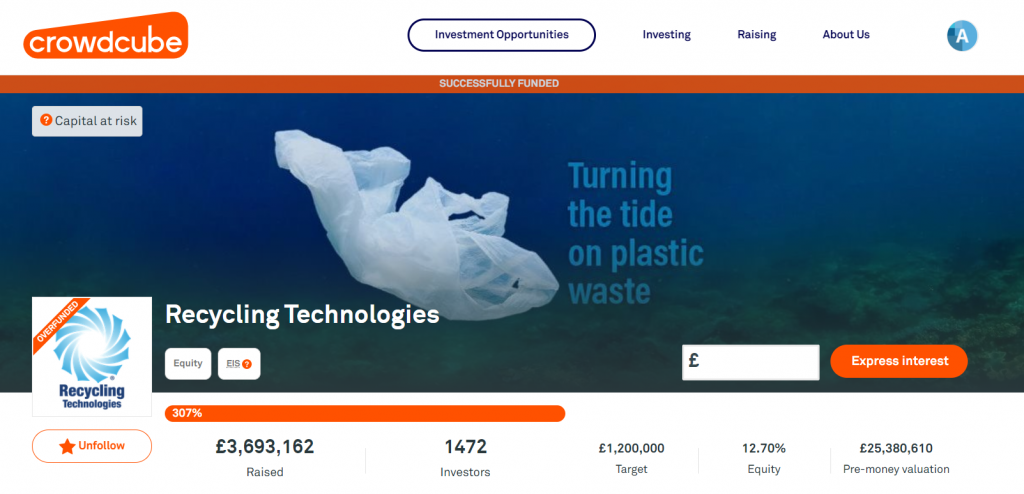 Even if their capital intensive technology was still to be proven commercially, they managed to inspire the everyday investor, raising a staggering £8.7m via crowdfunding in 5 rounds:
3 rounds with Syndicate Room: £950k in Jul '15, £1.5m in Nov '16 and £661k in July '17
2 rounds with Crowdcube: £3.69m in Feb '18 and £1.94m in Dec '18
A (non-exhaustive) list of companies in the intersection of sustainability and equity crowdfunding
Wrapping it up
I would really want to invite you to contribute to the conversation. What other benefits or challenges does the combination of sustainability and equity crowdfunding present? What companies in the sector have I missed? As always, thanks for reading and do send me any questions you might have.