Patreon vs. Drip… but what are they?
Patreon and Drip are crowdfunding platforms that allow creators to monetise their regular content that they publish. Examples of this content would be YouTube videos, podcasts, music, blog posts, video games and even interactive explanations.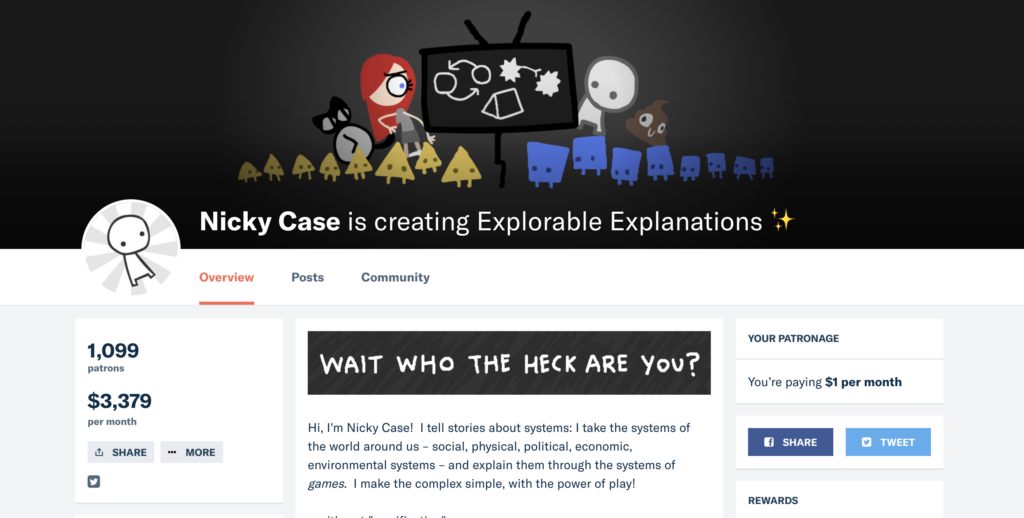 Followers of these creators are able to give monthly or 'per creation' amount. The rewards can be having access to new content before the general public and also exclusive content for supporters. Some creators introduce 'objectives' in their campaigns, explaining to their followers what they'll do with the money if they hit certain milestones.
As we defined in the article about crowdfunding history and types, it would be a 'rewards-based, keep what you raise, recurrent' crowdfunding.
Ok, that's clear, so what's the difference between the two platforms?
Patreon has been around since 2013. It was created by a popular musician that wanted to monetise his popular YouTube videos. In its relatively short existence, it has become one of the most popular sites on the Internet. Alexa (a company owned by Amazon that provides traffic and analytics data) ranks Patreon as the 380th website by traffic in the world at the time of writing… ahead of Kickstarter! (that was quite a revelation for me).
Patreon has enabled a multitude of creators (at both ends of the mainstream to super-niche spectrum) to monetise effectively their creations. If you like numbers, check this post by the Data Science Manager at Patreon. My key takeaway is that creators make between 50x and 10,000x on Patreon compared to what they would make from ads!
Creators retain 92% of the money pledged… and with the incredible growth numbers, that remaining 8% is big business. And that's why Kickstarter, with its huge community (more than 14m unique backers, you can check more interesting statistics in their page), decided to launch Drip (or d.rip in their URL) in 2017.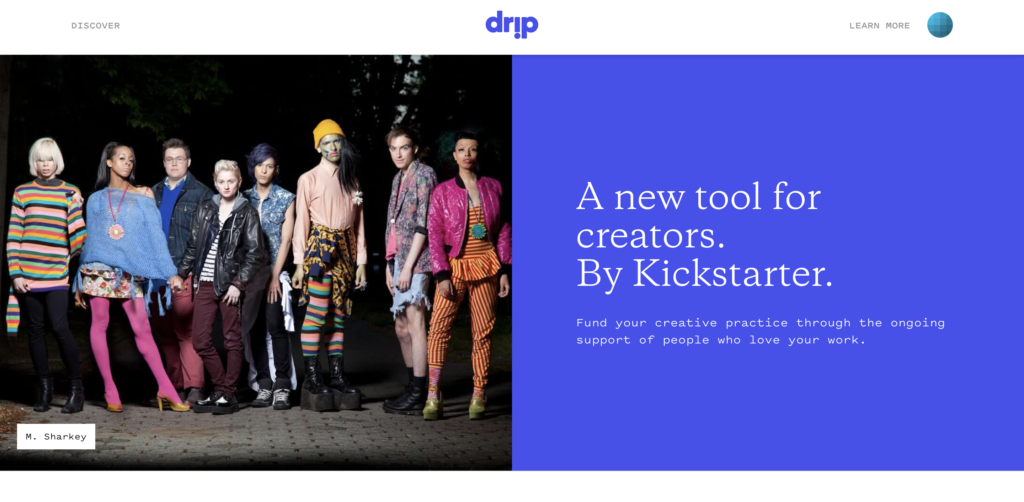 For the moment (June 2018), Drip is an invite-only platform. Being decidedly on their back foot vs. Patreon, they have decided that they would do things a bit differently:
They allow a founding membership. A sort of early bird for 'patrons'
It's integrated with Kickstarter, so the 14m+ users with an account can easily back their favourite creators
It offers portability of the data and content, offering support to transfer to other platforms
Finally, it's worth noting that Kickstarter is a public-benefit corporation since 2015. Their charter is quite explicit on how they will support creativity, and that gives the reassurance to creators that they're in safe hands
Wrapping it up
Patreon vs. Drip… Which platform to choose? Patreon has been around for longer and is well known, with a relatively high brand awareness. So it should be quite a safe bet…
Drip is a newcomer but has the power of the Kickstarter community behind and is doing things a bit differently. In particular, the portability of data makes betting for that platform a bit less risky. If you have a certain following, it might be worth applying for Drip and give it a try. Assuming you can get accepted!
As always, if you have any queries, please do not hesitate to get in touch through my contact form.