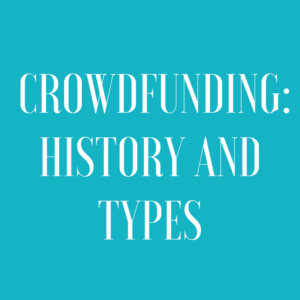 In our previous post, we were discussing how crowdfunding is a type of crowdsourcing. Today we'll dive into the crowdfunding definition, history, types and when to use each type of crowdfunding.
So, without further ado: crowdfunding is the financing of projects or ventures by raising relatively small amounts of money from a large number of people via the Internet.
A bit of history
Some people argue that crowdfunding has been with us for a long time. The Wikipedia page captures early examples of publishing, war bonds, the cooperative movement and even the monumental base for the Statue of Liberty, that attracted small donations from 160,000 people.
But it was the British band Marillion who funded the US leg of their tour via the Internet back in 1997, kickstarting the modern crowdfunding (see what I did there?).
Since then, some of the campaigns that have marked milestones on the crowdfunding history are:
Pebble: in May 2012, Pebble raised over $10 million on Kickstarter, making it the campaign that had raised most funds to that point. This put the crowdfunding movement into the mainstream media. They went on to a second campaign that raised over $12 million – it is quite typical for companies to do more than one crowdfunding campaign
Exploding Kittens: this hilarious card game (if you haven't played yet, it's highly recommended by yours truly) reached its $10,000 objective on Kickstarter in 10 minutes and went on to raise over $8 million. Not too bad, especially when you consider that the average pledge was quite low. The campaign had a total of 219,382 backers, making it the campaign with most backers
Brewdog: one of the first unicorns of crowdfunding, raised money by giving away equity for the first time in 2011 and is now on his 5th equity-based campaign (!)
In terms of funds raised Statista records a total of $738.9 million in 2016, slightly down from the $765.53 million of 2015. This dip is consistent with the data from Beauhurst, that tracks the equity crowdfunding market in the UK: £53.8 million was invested in 2016, down from £55.2m in 2015. We do see a significant recovery in 2017 (especially towards the end of the year), with a total £68.8m, making it the best year so far for companies seeking investment in the UK through crowdfunding platforms.
Types of crowdfunding
Let's introduce the different types of crowdfunding. In future articles, I will go into more depth for each one of them.
Once again, different sources cite different categories. I like to think of types of crowdfunding along three different dimensions or axes:
By type of 'compensation'
In terms of duration, they can be either 'one-off' or 'recurrent'.
In terms of the modality of raise, they can be 'all-or-nothing' or 'keep what you raise'
In the 'compensation' axis, I will stick to the 5 types defined by Valentí Acconcia, the reference in the industry in Spain:
Rewards-based: here the compensation to the pledger is a product or service. From a global point of view, Kickstarter and Indiegogo are the biggest platforms of this kind, while the referent in the UK is crowdfunder.co.uk
Equity-based: people pledging in this type of campaigns will receive shares of the company. The biggest platforms in Europe are Crowdcube and Seedrs. AngelList is a global platform
Lending or credit: the pledger will receive his/her money back with interest. Since 2005, Kiva has been offering microcredits to developing countries (and more recently also in the US).
Donation: most typical of NGOs and community projects, the backer will not receive compensation, aside from a very warm, fuzzy feeling inside. GoFundMe and Virgin Money Giving are two popular platforms
Rewards through donation: I like to think of them as online raffles – the backer will not receive compensation directly but is buying tickets for a relatively big prize. Prize and Omazeo are platforms of this type
In the duration axis, 'one-off' vs. 'recurrent', we have (surprise, surprise):
One-off: the user pledges only once within a relatively short period of time (typically between one and two months). Kickstarter and Crowdcube are examples of platforms for one-off crowdfunding campaigns
Recurrent: the user pledges a monthly or 'per creation' amount. Patreon and Teaming are two examples of platforms for recurrent raising
Finally, in terms of the modality of raise:
All-or-nothing: if the project owner raises the money set as a target at the beginning of the campaign, they will receive all the money pledged. On the other hand, if they don't raise all of the money, the project will be considered a failure and they receive nothing. The more purist platforms such as Kickstarter and all of the equity-based crowdfunding platforms will go for this model
Keep what you raise: more typical for projects with a community and sustainability side, the project will receive all of the money pledged regardless of reaching or not their initial objective. Crowdfunder.co.uk will let you chose the modality of raise
When to use each type of crowdfunding
Excellent question! And there is not a straight answer:
Companies like eFoldi, have done hugely successful equity raises after equally successful rewards campaigns
Other companies like Nomatic have made the rewards-based campaigns their way of launching new products to the market
Some companies like Revolut, have been successful in several equity-based campaigns
The combinations are endless! But the general rule of thumb, at least in my opinion, is:
If the company is small and has an attractive product or service, usually rewards-based campaigns are the best bet
In the case that the company has a disruptive idea and is getting some traction, the company could look at equity-based crowdfunding
At any stage, provided that the business model has been proven, the companies might opt for a lending campaign
There is plenty of amazing examples of creators of content (musicians, YouTubers, bloggers and even programmers) that are doing extraordinarily well with recurrent rewards-based crowdfunding
Conclusion
Crowdfunding is the financing of projects or ventures by raising small amounts of money from a large number of people
It has been around since 1997 and has been growing consistently (with a blip in 2016)
There are several types of crowdfunding that we will see in detail in future articles
Depending on the stage of the company, it will opt for different types of crowdfunding
Want to know more?
Please throw my way any questions you might have about crowdfunding by commenting on the article or through my contact form.