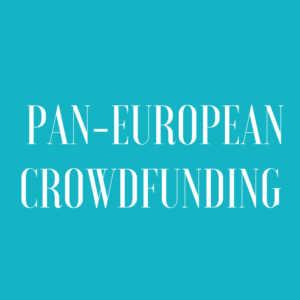 While I was doing my research about equity crowdfunding, I couldn't help but notice a clear trend: of more and more companies from Southern Europe were raising money in the pan-European platforms of Crowdcube and Seedrs. So I asked both platforms about this and they very kindly met me over Skype to talk about it. And my hunch was right: since it was funded, Seedrs has raised money on 14 different pan-European campaigns since 2016. Crowdcube raised money for 23 non-UK based companies in 2017 alone. So far in 2018, there have been 5 successful raises.
Our conversations were quite long and detailed. Here are some of the juicy pieces of information that they gave me during the calls:
There are 4 main reasons to raise money through equity crowdfunding
The capital: that's the main reason why people think of crowdfunding. But as we'll see, it's not easy money. Both platforms agree that if this is the only thing a company is after, there might be easier ways to get the funds you need to grow your company
Communication and marketing: an equity crowdfunding campaign is a marketing campaign on steroids. Many people that were not aware of your products and services will come across your company for the first time during your crowdfunding campaign. A great way to build awareness!
Community: your investors will become your ambassadors. Through them, you'll find distributors, suppliers, media contacts, access to new markets… A quick look at the comments on both platforms shows the power of the network that the companies raising money are building
Validation of the business plan: with literally hundreds of eyes examining your business plan, you'll receive invaluable feedback that will shape and sharpen your plan for the next few years. Again, a quick look at the forums on both platforms shows the power of the feedback received
Raising money through equity crowdfunding can be…
Faster than other ways of funding: a well-planned campaign can deliver results in 5 to 6 months. The campaign on the platform is only between 30 and 60 days. But there is a lot of work upfront and all the due diligence afterwards. Still, this is a remarkably short period compared to alternative ways of funding
Cheaper: I was surprised by this affirmation. After all, both platforms charge 6-7% of the money raised plus completion fees. But both platforms highlighted the cost of presenting to angel investors and venture capital firms, the legal costs, etc, can add up quite quickly. So if you're thinking of raising money, it's worth looking at the numbers, keeping in mind all the other reasons and benefits of running a campaign
But it's a lot of work: in fact, for the pre-campaign, campaign and post-campaign, it will be the full-time job of the project owner plus a few hours a day of the marketing team, finance team, etc. Do it only if you're after all of the 4 main reasons discussed above!
The benefits of a pan-European campaign for the companies
So, if I haven't put you off with the previous comments, you might be wondering why you should run your equity crowdfunding campaign on an international platform. The alternative might seem easier. A smaller, local platform in your native language might seem a simpler way of doing things, right? Actually, there are several benefits of running on a pan-European platform such as Seedrs or Crowdcube. Let's see them:
You'll have access to the full platform's base of investors: in 2017 alone, there were 120,000 individual investments in Crowdcube while the number on Seedrs was of 46,700. That's just huge!
Diversification of investors to the start-ups: again, the numbers are quite impressive, with investors from 58 different countries and growing. As discussed, these investors can bring expertise and connections that can open new markets
Access to the platform's Nominee:  the nominee is a structure where the equity crowdfunding platform holds the shares on behalf of the investor. This simplifies the life of the company raising funds, as they have to deal just with the nominee, rather than the individuals. This is a figure that doesn't exist in some countries such as Spain. By raising money in a pan-European platform they can access this 'figure'
Still, if your intention is to run a local company with no short-term plans to export or expand to other countries, a local campaign might be more suited for you.
It's also worth noting that for the investors, putting money into European companies gives them diversification, both in terms of sectors and geography. Crowdcube, through their partnership with the American platform SeedInvest, also offers a portfolio of US-based companies.
How does the equity crowdfunding investor base look like?
Both platforms have very similar geographical split:
Around 70% of the investors are based in the UK
20% in the rest of Europe
10% in the rest of the World
These percentages can vary wildly from project to project. For example, for HomeIt in Seedrs, more than half of the investors were from Portugal. Both platforms are working hard to grow the number of investors in the rest of Europe. Crowdcube has a very active team in Spain (with offices in Barcelona and Madrid). Seedrs has offices in Berlin, Amsterdam and Porto.
The platforms have segmented the investors in:
Casual or empathic: invest £2k to £4k. They are not very sophisticated. They rarely request the restricted documents (business plans etc.). Sometimes don't even read the pitch or watch the full campaign video (!!)
Semi-professionals: invest up to £50k. They are quite thorough and will usually ask questions in the forum before investing
Professionals and VCs: invest £100k+. Very demanding and exhaustive in their due diligence
Keys to a successful raises across borders
First and foremost, the company has to have a solid plan. Ideally, in an industry that has potential. Preferably, with some traction and a good, credible team
A fair valuation of the company: this is always tricky and in my experience, the most frequently asked question in the forums. It needs to be realistic and leave the investor with the feeling it's a good deal
Both platforms agree that it's important to have a good base of investors committed. Ideally, it would have a reputable lead investor that will give credibility to the company and the campaign
As I learned from my experience in rewards-based crowdfunding, there's nothing worse than lacking traction at the beginning of your crowdfunding campaign. Both platforms don't allow the projects to go public until they have secured at least 25% of the investment. A good strategy would be:

Work out what is the minimum amount of money that the company needs
Aim to have investors committed for half of it before the launch
Work with the platform to engage their community and significantly overfund. But only to the point where you're comfortable, Perhaps you're not ready to give too much equity

B2C companies with a big user base tend to do well because they end up investing

Those users understand the value proposition of the company
They are engaged and, in some cases, they are already brand ambassadors

Companies that have run a rewards-based campaign or even another equity campaign tend to do very well
It does help to be in a 'hot industry' and to have emotionally invested followers
Finally, there are some tactical tricks in both platforms. For example, playing with the different automatic email triggers. In Crowdcube they happen at 50%, 75% and 100% funded. They also have a weekly 'Movers and shakers' email. Seedrs has similar email campaigns. Use those triggers wisely!
Some challenges
As we've seen above, there is a significant skew in the investor base both platforms towards the UK. A few of these investors will seek SEIS/EIS relief. In principle, these are schemes for UK companies. Still, both platforms have found ways of applying for it for non-UK based companies.
Another handicap would be that the more sophisticated investors will want to meet the company representatives. Companies looking at raising big quantities through equity crowdfunding should be looking at having a 'man on the ground' in the UK, preferably near London.
Finally, there's the language barrier. Although a good business plan will go a very long way, the team has to have very strong language skills to answer questions quickly and with confidence.
Examples of successful cross-border equity crowdfunding campaigns on Crowdcube

Nanusens: still open at the time of writing, Barcelona based Nanusens seemed a bit stalled at the beginning of their equity crowdfunding campaign. They had a complex product to explain to the investors but they had an amazing management of the forum. They were so open to feedback that they reduced the valuation of the company mid-campaign. A surprising move as they're situated in a privileged position within a promising industry. The company seems geared towards an exceptional ROI. A proof of their adaptability was the extension of the campaign when they were close to 90% of their objective as they had applied for EIS in the UK. The combination of both things took them to overfunding (over £545k out of £400k with 8 days to go)
Wave: based in Madrid, this company has raised twice successfully on the platform. The key, in my opinion, was a very solid team and plan in an extremely attractive sector. They combined it with an impeccable follow up of people interested in investing. I personally received emails from the COO and funder, answering immediately all of the questions I had, so I couldn't help to invest a bit of money in them!
Vita: this innovative drink company based in Madrid, had an enormous success thanks to a great pre-campaign, in which they were able to line up about 40% of their objective. They also managed the questions very promptly and transparently. Last but not least, they had a great team to rely on. They raised money from investors in 25 different countries.
Santamania: with over 1 m€ raised, it broke all of the records for the biggest equity crowdfunding round in Spain.
Examples of successful cross-border equity crowdfunding campaigns on Seedrs

Bolt: this company based in the Netherlands had a great hook for their leading product: 'the Dutch Tesla on 2 wheels'. They had a great pre-campaign, driving traffic to a pre-registration page. They raised 3.1 m€ from 2,939 investors
HomeIt: perhaps the quickest pan-European raise in Seedrs. They launched on a Monday and they were funded on the following Thursday! They went on to overfund to over 200%. One of their keys to success was to be in a very hot industry. Their technology allows to let out properties to guests, and have guests access the property without human intervention.
Agroop: based in Portugal, they have successfully raised nearly 700 k€ in 3 investment rounds. They have a very loyal base of investors that have accompanied them through these different rounds. The key to maintaining them engaged was to be completely transparent about their successes and failures. Or, better phrased, opportunities to learn!
Wrapping it up
Raising money through equity crowdfunding in a pan-European platform like Seedrs or Crowdcube can be a very attractive option. Not only you could raise the money you need to execute your business plan but also access to multiple benefits. Amongst others, the reach to international investors and creating a community of ambassadors.
At the same time, running a complex equity crowdfunding campaign with the added complexity of doing it in a different language, can be very challenging. It's worth getting the right advice.
And I am uniquely positioned to help you overcome these challenges. I have run two successful crowdfunding campaigns and I'm now a partner of both Crowdcube and Seedrs. My language skills include Spanish, Catalan and Italian. I have experience as an investor in some of the companies discussed above. And I'd be more than happy to represent companies in investor meetings, as I'm based close to London.
So if you're considering running such a campaign, don't hesitate to drop me a line for a chat through my Contact form.
Thanks to Ana Galán from Crowdcube Spain and to Filipe Portela from Seedrs Portugal for their time and invaluable insights and advice.