When I decided to go freelance, I had clear in my mind that I would look for interesting projects to work on. That's why I became a trustee of the amazing local charity Loveworks and also went on my knees to convince my mate Morgan to let me be a part of the new local brewing venture Crumbs Brewing.
And today I wanted to talk about my experience with crowdfunding with Crumbs. We launched our first brew on June '17 and the reception of the beer and the brand was so good that we thought about using crowdfunding to scale up the business. We would be asking money (£15k to be precise) to brew two new beer types in return for the opportunity to be the first to taste the new brews at a discounted price. We were basically pre-selling the beer while having a great opportunity to talk a lot about our value proposition and raise our brand awareness. What's not to like!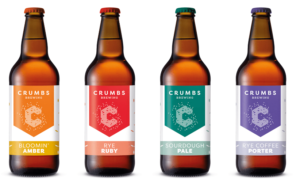 We did quite well and were able to raise a total of £15,720. And while we were really proud of the result, I think that we could have done even better if we had nailed a few things.
This article is a bit of a reflection of what we did right and what we could have improved in our campaign, conveniently split into 5 things that worked and 5 things we could have done better. So without further ado…
5 things that worked:
1. Launch party: there's nothing worse when you land into a crowdfunding page to see that they are very far from their objective. We wanted to avoid that with style. And we launched a party! We offered a first free beer and food to entice our fans to come. We showcased our video, counted down for the launch and got people pledging there and then by offering a second beer on us. It worked! We got nearly £2k on the night and lot of traction for the next couple of days (over £800/day). In that way, we avoided the dreaded 'empty restaurant syndrome' while making some headway towards our objective.
2. Content: we engaged with a great local friend that produced an excellent video. Not only he shot it professionally but also had great suggestions to make it a good piece of storytelling. Morgan had perfected his writing skills (and refined our tone of voice and value proposition) by writing a nice quantity of blog posts on the months building up to the campaign. We had also built a good library of photos that we used during the campaign. We received excellent feedback on the content, conveying our value proposition and the objective of the campaign. We also got a bit of stick for our use of humour, but I think that was great as people would remember the jokes.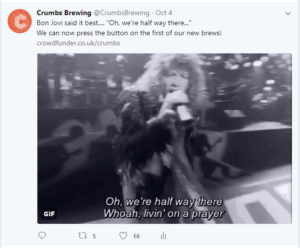 3. Engaging with immediate audiences (friends, family, hardcore fans). These groups wanted us to succeed and donated generously – in some cases after a bit of insistence from our side. Before launching the campaign, we had built a base of hardcore fans by attending and sponsoring a great number of local events (New Music Fest, Eat Festival, Run Reigate…). We had done also a decent job on social media and building our email list. These audiences responded really well!
4. Structuring the rewards: we made sure that all of our rewards were offering great value for money. Due to the premium price of our product, it meant that some of the rewards would fall in 'odd' prices, i.e. £30 and £60. This was actually a good thing because it drove extra money into the campaign, as most people would have donated £20 or £50 instead. All that without alienating people.
5. Paid social (Facebook): I reckon that the average person that pledged needed 3 or 4 reminders. Paid social helped us engaging with our existing audiences again, making it easy for them to pledge when they were on their computers or mobile phones. It was basically another opportunity for us to put the link to the campaign in front of them.
5 things we could have done better:
1. Engaging with the experts earlier: although crowdfunding as we know it hasn't been around for long, there's quite a lot of people that have run a campaign and can give you their advice. Also, in our experience, the guys at crowdfunder.co.uk are really helpful and we should have engaged with them much earlier. They will take a commission on whatever you raise so they will want you to succeed. It's a win-win situation and they suggested really good ideas. They only knew about our campaign on the day of launch – we should have engaged them months before!
2. Plan events mid and end of the campaign: our product lends itself very well to parties. And we know what happened with our launch party. We did do some third-party events, but with little promotion and perhaps we didn't push our message enough. It's a fine balance!
3. Engaging with external audiences: ideally, we would want to reach similar audiences to ours. Our prime prospects would be local men with a comfortable level of income. So for example, we could have reached the audience of Maison du Vélo, a local, upmarket bike shop that organises social rides. They are great at social media, with over 2,000 MAMILS following them on each of the social platforms (Facebook, Twitter and Instagram). A well-planned event with them could have provided us additional 20 pledges (disclaimer: back of the envelope calculation!). In case your wondering MAMIL stands for Middle Aged Man in Lycra!
4. Releasing new rewards: an old trick of crowdfunding campaigns is to release or unlock new rewards mid-campaign. We could have released new merchandising This would have given to re-engage with people that had already pledged.
5. Understanding better how to leverage Instagram and Twitter. Reaching external audiences with paid Facebook. Thanks to the help of our friends at Yesmore, we were able to grow our Instagram following to 1,000 followers – mostly beer and bread enthusiasts, so in theory right for our project. It was then up to us to convert that following to pledges, but we failed on that front. And while I have answers for the other 4 points, I'm not too sure of this last one. I'll definitely do my homework for my next project!
So, after this project, I think I am sold to the whole crowdfunding movement. I think that it's such a great marketing and funding tool that we'll only be going to see more and more projects in the near future.
On my front, I'm going to run another campaign for a non-profit venture, the brand new community café The Merstham Mix.
And if you're thinking of launching your own campaign, please do contact me and let's see how I can help you!
By the way, if you fancy seeing me talking about all of this in a webinar run by crowdfunder.co.uk, here's a link: https://www.youtube.com/watch?v=7pHJjDlAC5w